... I DEFINITELY needed an extra 5 minutes - to go outside! I was getting ready to go to the office, and I rushed so that I could go and admire the gorgeous irises that bloomed overnight! Itty bitty violets are ready to burst open and the lilacs filled the mist with a delicious sweet aroma. A wonderful moment of admiration and delight, suspended in time, wishing it lasted forever.
I also received a new book from Tyndale for review. A woman waited a lifetime for something to happen. I remember Tita's hands, grandma's. They looked like the ones in the cover. She would hold me and with her immensely love, she taught me how to cook, sew and even played some music - she allowed me to be me and let my crafty bone lose!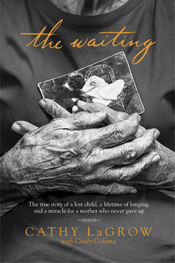 A dearest friend passed away. Cancer was not nice to her. I painted the backdrop for an Easter play at church three years ago. Bobby was standing next to me when I took this picture, before all the paint dried and it was hung in its final destination for a week of sharing about the love of Jesus for the world.
A memorable April 22nd on many levels; since the awe at the little dew drops on delicate petals to the veil opening and making gorgeous flowers bloom to receive a loved one in heaven.
God's love is all around...