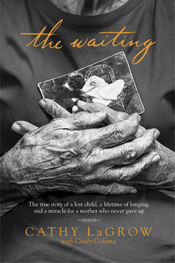 Never judge a book by its cover... That's how the saying goes, right? Well, I am so glad I went against tradition and decided to give this book a shot, precisely because of its cover. The back cover and the summary in Tyndale describe a story about a young girl who is assaulted and raped at 16, when she still thought that babies were brought by the stork. But there was something about the hands in the picture that reminded my of my own grandma, and I couldn't take the image off my head. And I'm so glad it stayed there...
What a story! Minka is a farm girl, innocent and hard working. And yes, she is unfortunately raped and gets pregnant at 16. Minka realized what happened to her when her own mother starts asking questions when she recognizes a pregnancy and learns the truth of how things happened; she is set to help her daughter and protect her reputation. Because of this, Minka is encouraged to leave the area where she grew up, have the baby, and give her for adoption. Minka was never completely aware of what it all entailed, but her wonderful journey is a testimony of how the darkest happenings are also immense blessings.
Her innocence was taken away in a horrible moment, but her love never weakened. In her lack of understanding, she sought news from her baby girl and wrote letters for years and years, longing to have news of that little bundle of joy with deep blue eyes that she once held in her hands. Minka prayed every day for her daughter to have a good and plentiful life. On her daughter's 77 birthday, she had the bluntness of adding a petition - to see her again; on that same day, her daughter was opening a big envelope containing all the documents related to her adoption... and a huge stack of letters written by a loving mother who would never forget about her.
I had issues reading this book... Please don't take me wrong, it was just so intense that at times, it was hard to continue reading. There was a lot of pain and emotions rolling up and down; the initial connection with my own grandma flared this link that I seldom have had with other stories. There were moments I wanted to find a way into the story and comfort Minka. At times, I wanted to be there to ask for her comfort. Minka kept fighting on her knees, believing and trusting her Creator, knowing with all her heart that He will be there for her baby. My eyes teared up, my throat was in knots and my arms longed for a hug...
Through the most difficult situation, Minka sets her eyes on things above and reminds us of the freedom of forgiveness, the support of our Creator and the richness of life found in serving others.
This is a wonderful story that I highly recommend for those who may be needing some encouragement. And even if there is no major happening in your life, it is always a blessing to be reminded of how wonderful God's love is. Minka and her story are an inspiration; she has encouraged me to continue living life with my eyes set on things above and overall, trust God.
I received a free copy from Tyndale House Publishers in exchange for an honest review.