...I wish I had more time to be crafty and somehow put into practice all the ideas fluttering around in my head.
There are several projects I'm working on right now; for some reason, I still think I can accomplish more by working on more than one thing at a time, but I may have to start listening to those studies that have demonstrated that multitasking is not as effective as we think it is - you never get enough time for one task, so quality diminishes... Hopefully, never in the crafty world in the Hill!! :)
Something curious is that I came across this fun and bright fabric for Red Rooster, and I actually got it!
This would be my first yellow-focused fabric purchase, and I'm wanting to turn it into a sampler quilt, not only to practice different quilting techniques, but to showcase the fabric and -you may guess it- to have scraps left so that I can eventually experiment with those.
I continually browse the internet for sales, and found some of the prints of this particular collection at a really good price, so I decided I'll treat myself for the 14th in yellow... (ha! excuses...).
Just one idea for combining my Mellow Yellow with fabrics I already have...
Also, I received another book from Tyndale for review. This one is called "The Prayer Box." I will be posting a review about it soon; with the quality of fiction stories Tyndale has been publishing lately, I'm confident this book won't be a disappointment.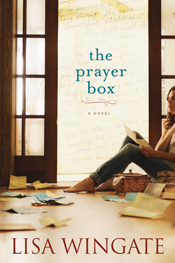 And in between the full-time work (for which I'm deeply thankful) and all the scraps, the stack of pieced hexies is still growing at a very slow, but steady pace. I don't have any more pictures about those because I took one of grandma's sewing boxes to the office, with a bunch of scraps, a pin, a needle, thread and hexies to work on during lunch break.
And going to the office, one friend will be a grandma in about 5 months, so I'm putting a quilt together for her!! She already chose the fabric, so I'm just waiting for it to get home.
And just in case all of this was not enough, I found this super tempting 6-print fat quarter sale, but it has a string attached - a quilting challenge!! And this has a deadline for mid-March!!!
Phew! With all of those exciting things going on, I hope they all get finished one day!!
In the meantime, I pray that you stay blessed and warm! :)