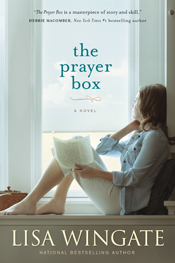 It's been a while since I last read a book that would make me want to visit the place described in it; Hatteras and the Outer Banks had never been as appealing as they are in "The Prayer Box."
Tandi, a mother of two, and a lady that has survived hardships, abuse, abandonment, and other taxing situations, tries to start a new life in Hatteras. When she first arrives in Hatteras, she rents the bungalow of one of the main houses of the island, where Iola lives. However, Iola passes away and Tandi is charged with the task of setting things in order in Iola's house.
One day, she was starting to clean one bedroom and she came across prayer boxes, each for a year if Iola's life. While her life starts taking shape, Tandi makes time for reading Iola's testimony of hardships and struggles. Even if they never actually meet, Iola becomes a mentor to Tandi, and this is the most precious thing of this book - how God's love and forgiveness can actually change someone's life and give them hope in every situation.
This book is full of wonderful, detailed descriptions that can easily transport the reader to the town of Hatteras
in an instant. Despite this, the plot itself seemed too shallow with unsolved pieces that actually made it far from an enjoyable read.
As a big contrast to the wonderful pictorials, there are strong stereotypes in the book as well. There is the handsome, tall, strong surfer that desires every good-looking woman around and desired by them in return. Good morals, responsibility, accountability, kindness and similar adjectives will never be used to describe him. There is also the intelligent, clumsy, kind and undervalued man that no one seems to notice but is actually a better "husband material" than anyone could think; moreover, he is a teacher and is good with kids. I could not help but constantly thing of literary dicotomies like Mr. Darcy and Mr. Whickham, or Ferrars and Brandon, which probably made this book more difficult to read, because it is far from Jane Austen. If I were writing this review as a school assignment, I would definitely go deeper into it, but I would not like to completely spoil (even more) the book for those who are interested in reading it.
This brings me to the fact that I am (obviously) not pleased with the plot of the book. It is a nice, self-discovery journey for Tandi, but hardly enticing. Her insecurities often surface, and there are hints to lack of structure and discipline when she was growing up. This translates in a lack of identity and unawareness of her strengths and skills that allows people to either constantly manipulate or nurture her.

I must emphasize that, to me, the positive side of this book is Tandi's curiosity for Iola's letters, which are full of honest comments, from happiness, anger, anxiety, frustration to rejoicing and even a little mischievousness. Iola's authentic and free relationship with God oozes all over her letters, and this is what sparks in Tandi the new motivation for change. Besides, there are several individuals in the community that strive for living Christian lives and welcome Tandi in an unimaginable, friendly and loving way.
At moments, this book is more like a modern fairy tale full of stretched circumstances and loose ends. There are some characters that take a major role in Tandi's part, but their relationship with her is hardly solved. I keep feeling that there was really no conclusion, which is not necessarily bad, but leave a bad aftertaste in this case. However, contrary to the wonderful, detailed and long descriptions of the "heroes" in Tandi's life, the undetailed attention to the other side of the coin weakens the story.
I would recommend this book if someone is interested in an easy read. There are some good values depicted in the story, particularly in Iola's letters, that can be used as practical examples for biblical teaching. In this sense, Tandi's transformation is also a token of what God's love and forgiveness do for those who seek Him with all their hearts and with authenticity of motivation, just like Iola did.
I received a complimentary copy of "The Prayer Box" from Tyndale House Publishers in exchange for an honest review. In no way has this biased my opinion on the book or author.